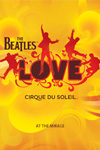 LOVE - Cirque du Soleil
at The Mirage LOVE Theater
Price from $ 157.80
LOVE at The Mirage in Las Vegas celebrates the musical legacy of the most loved rock group The Beatles. Tickets to LOVE in Las Vegas here!

Drawn from the poetry of the lyrics, LOVE explores the content of the songs in a series of scenes inhabited by real and imaginary people. The international cast of 60 channels a raw, youthful energy underscored by aerial performance, extreme sports and urban, freestyle dance.

LOVE was 2008 Grammy Winner for Best Compilation Soundtrack Album for a Motion Picture, Television or Other Visual Media!

LOVE in Las Vegas brings the magic of Cirque du Soleil together with the spirit and passion behind the most beloved rock group of all time – The Beatles – to create a vivid, intimate and powerful entertainment experience.